Looking for a used car in Canada can be a daunting task, especially in population-dense
Ontario
, but with the right preparation and research, it is possible to find the best value for your money. In order to score the best used car, you will need to know what you want and what to look for, and also be aware of the potential pitfalls that come with buying a used vehicle. You can increase your chances of finding a quality used car that fits your needs and budget by following these tips. So, if you are using a
VIN check
or Carfax right now when background checking the car you want, you can make your car shopping more worthwhile by following these tips and steps to buying a used car.
Consider Your Options When You Buy a Used Car
When purchasing a used car, it's important to weigh your options and do some research. In general, a used car is a great choice if it is still in great shape for half the price. Determine your budget and figure out what type of car would suit your needs – do you need a family-friendly vehicle or something more fuel-efficient? Research and compare different models and their features, safety ratings, and overall reliability. Take note of all available car options within your reach and get a vehicle history report of each. If it makes financial sense, don't be afraid to negotiate the price and consider financing options, such as leasing or financing through a bank.
Background Check Cars with Trusted Used Car Market Sources
To ensure the accuracy of data, it is important to use trustworthy sources like
Driving.ca
,
ServiceOntario
, and
Canada Auto Review
when you check car information. If you rely on unreliable sources, you could end up with the wrong information and make a bad choice. Reliable sources on car reports like automaker websites, expert review sites, and government resources give you exact information about car specs, features, and performance. This helps you make better choices about which car to buy. They can help you avoid spending too much money or ending up with a car that doesn't match what you need.
Conduct Thorough Visual Inspection of Prospective Cars
To ensure you are buying a good and reliable car, conduct a thorough inspection of the exterior, interior, and under the hood. Check the specific car body for scratches, dents, or rust, and examine the tires for wear and proper inflation. Test all features, including the radio, air conditioning, and windows, and inspect the engine, belts, hoses, and fluids for damage or leaks. Don't forget to check the right dimension or size for the wheels or doors as they can be consequential later on. The same can be said of fuel economy as you may be receiving less than you paid for. Your careful inspection will guarantee a solid purchase.
Learn As Much As You Can with Test Drive
Test driving
a car you are planning to buy is crucial because it allows you to get a real feel for the vehicle and determine whether it meets your needs and expectations. You can assess the comfort of the seats, the responsiveness of the steering and brakes, the handling of the vehicle, and the overall driving experience. Suffice it to say, it gives you the opportunity to identify any potential mechanical issues before making the purchase. A test drive can ensure that you are making an informed decision and investing in a car that meets both your practical and emotional requirements.
Check with a Trusted Mechanic
It is important to get a
professional mechanic
's opinion on your choice of car because they have the expertise to identify any mechanical or structural issues that may be present in the vehicle. A mechanic can check for signs of wear and tear, potential safety hazards, and any repairs that may be needed in the near future. With a mechanic's diagnosis, you can potentially save yourself from purchasing a vehicle with hidden problems that could end up costing you a significant amount of money in repairs down the line.
Don't Hesitate to Ask Questions You Need to Know
Asking used car sellers relevant questions to clarify a detail is incredibly important for buyers because it helps them gain a better understanding of the vehicle they are considering purchasing. This helps in making a well-thought-out decision about whether or not the car is worth buying. Questions about the car's condition, accident history, maintenance records, and odometer readings can give the buyer critical information to decide if the car is worth the asking price. Asking the right questions can help buyers avoid costly mistakes and make sure that they are getting a reliable vehicle.
Check Available Warranty
Checking the available car
warranty
coverage when buying a used car is crucial because it helps to ensure that the car is covered with an additional layer of financial protection in case of any mechanical breakdown or related issues. This is a crucial factor in giving the buyer peace of mind knowing that they will not incur huge repair or replacement expenses within a specific period provided under the warranty.
Master the Art of Used Car Buying with These Tips and Tricks
Implementing certain used car buying techniques helps you avoid potentially fraudulent sellers who may try to scam you by selling a car with hidden issues or false information. Secondly, using these techniques can help you negotiate a better deal as you will be armed with information such as the used car
market value
(or resale value), repair history, and any issues it might have. But the biggest advantage is that it can save you money in the long run by helping you find a car that is reliable, safe, and meets your needs.
Bring Use Car Buying Checklist For Research Purposes
To ensure you get a reliable and safe vehicle, bring a used car buying checklist whenever you are car shopping. The checklist enables you to tick the boxes of the qualities you are looking for in a car as well as the red flags. These include things like government documentation of the vehicle, accident, and maintenance records, and even your own personal observation and experience with the vehicle. It can also be an effective way of avoiding hidden costs and unexpected problems that may arise post-purchase, which also helps in making an informed decision when choosing between different vehicles.
Click here
to see a sample of a used car checklist.
Beyond Car Prices on Tags: The True Price of a Car
Pay attention to other costs when buying a used car because used car prices do not reflect the overall cost of owning the vehicle. In the long run, other costs such as insurance, maintenance, repair, fuel efficiency, and depreciation can greatly impact the cost of owning and operating a car. A car with a lower price tag may have higher maintenance and repair costs, or may have a lower fuel efficiency resulting in higher fuel costs over time. Insurance costs can also vary greatly depending on the make and model of the car. Examine all potential costs before signing the bill of sale to ensure that your choice of car is a financially feasible option in the long run.
Negotiate a Used Car & Score the Deal of a Lifetime
Negotiating a car deal is a must to ensure that one gets the best possible price for their purchase. Various conditions can influence the negotiation process, such as the age, condition, and history of the car as well as the time, place, and market competitiveness. If the car is older or has higher mileage, the seller or dealer may be more willing to negotiate a lower price. Additionally, a dealership may offer discounts or incentives if they are competing with other dealerships in the area. The particular day of a year can also influence negotiations; for example, the end of the model year can be a good time to negotiate a better deal on the current year's models. When you finalize a car deal, it is important to ensure that one gets the best possible price and avoids overpaying for their purchase.
Learn to Turn Down a Bad Car Deal
Being prepared to walk away from a bad car deal when buying a used car is crucial to avoid regret and future financial problems. A bad car deal can result in expensive repairs, frequent breakdowns, and unsafe driving conditions. By walking away, one can avoid investing money into a car with hidden problems or flaws that may be costly to fix. It is important to be patient and take the time to thoroughly inspect and research the car before making a purchasing decision.
Purchasing a used car can be a daunting and overwhelming task, but with the right approach and preparation as well as with the right tips to help you, it can also be rewarding and cost-effective. As with any major purchase, it's essential to do your research, take your time, and prioritize transparency and honesty in all dealings with sellers. With these principles in mind, you can be confident with your choice and rest assured that you're getting the most value for your money.
A vehicle bill of sale is a legal document given by the seller to the buyer. It reports that on a specific date, at a specific locality and for a particular sum of money the seller sold to the purchaser a specific vehicle of which he had lawful possession. It is a written instrument proving that the transaction was successful and that both parties were able to understand each other clearly.
The bill of sale will generally include the following information about the transaction:
A description of the vehicle and its vehicle identification number (VIN).
Any warranty that may have been agreed upon.
The final sale price of the vehicle.
The name of the buyer and the seller.
The state in which the vehicle was sold.
Completing the form does not transfer the title to the buyer. To complete the transaction, the buyer and seller should accomplish the following:
The buyer should apply for a new title in his name, take the Certificate of Ownership (Title) and this Bill of Sale to the local vehicle licensing office and pay the required fees and taxes.
The seller should submit a completed Report of Sale which releases his liability from the vehicle. He can report the sale by filling out the Report of Sale section at the back of the title. He can also go in person at any vehicle licensing office or process it online.
The process may vary depending on the location. Please contact your DMV to make sure that you have the correct instructions.
Download a free vehicle bill of sale here: Free Vehicle Bill Of Sale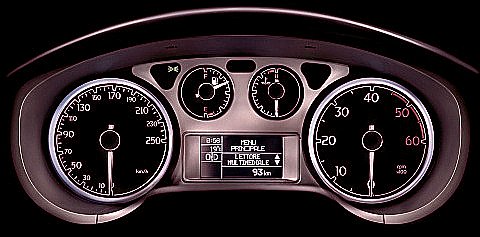 Odometers are often rolled back so the seller can make more money. Cars with low mileage are priced higher. Omit 35000-40000 miles and it will artificially inflate the value to about $2500 to $3000.
Digital odometers were supposed to make it hard for criminals to tamper with them, but they still managed to find a way to hack them.
Most vehicles store their digital odometer reading on the instrument cluster on a re-writable EEPROM chip. Once the chip is located, they will have it desoldered from the board and get it connected to a computer's serial port where its data can be downloaded and manipulated.
Ponyprog is a popular program known to edit the data from an EEPROM chip.
The data on the chip is coded with inverted hex values. The odometer data are then edited and rewritten to the chip, which is then re-soldered to the odometer board and put back into the car. On older cars that sports analogue counters, the odometer is manually rolled by hand.
Tampering the odometer not only raises the value of the vehicle, it also deceives buyers that the vehicle is in  better condition.
Here, we wrote down a few tips that will help consumer's determine if the odometer has been tampered. Make sure that you keep these things in mind when you buy a used car.
Check The Instrument Dashboard
Make sure that the numbers on the odometer gauge are aligned correctly. They shouldn't be crooked, there should be no gaps. Check if it jiggles when you bang on the dash with your hand. If the vehicle has an analog odometer, as opposed to newer digital readouts, check that the numbers are lined up straight.
Look for some man made marks inside the instrument cluster. Look for fingerprints or smudge marks. If you find some, it is a sure sign that someone has been in the cluster. Look for loose parts and switches that do not belong. There have already been reported cases of vehicles being rigged with switches that turns the odometer off and on.
Check The Wear And Tear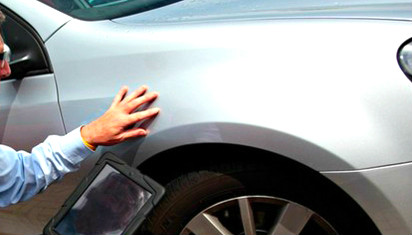 Make sure that the wear and tear match the declared mileage. Look out for signs such as worn seats, scratches on the keyhole, the steering wheel and other vehicle parts. These are indicators that the vehicle has been used a lot. If it looks too worn for the declare mileage that means that it has been rolled back. Check the vehicle's tires. If it shows 20000 mi or less it should have the original tires.
Look For Service Stickers
If you are checking a car with a digital odometer, it will be difficult to see physical signs of tampering. You can only know by dismantling the instrument cluster to see if the odometer has been desoldered.
You can look for service stickers inside the door or under the hood that may give the actual mileage.
If the odometer has been replaced or if a mileage correction was done, there will be a sticker showing:
The date of installation.
The vehicle's last known mileage prior to the repair or replacement.
The mileage added to the vehicle while the odometer was inoperable, if any.
You should also look at the owner's manual for  maintenance records. Make sure that there are no missing pages. It is also smart to contact the service center to validate the service manager 's signature.
Get A Vehicle History Report
Get a vehicle history report to compare the recorded mileage and the displayed mileage. Check the mileage on the car's title records and the odometer, it will help point out any discrepancies.
Be Vigilant
If you have information on any operation or incident where this criminal act is being committed or of people involved in this crime, please contact your local Highway Patrol. Reporting it properly  will alert our law enforcers. They will pay more attention to this problem and formulate more ways to protect consumers from this fraudulent activity.
Help inform your community by sharing this article on social media. Odometer fraud can be avoided, let's work together to make the used car market safer.