Find out what your car is worth today:
How Much Is My Car Worth in Canada?
Making an educated guess on a Canadian vehicle's value will depend on many factors, such as location, taxes, and demand. But if you want a convenient way of getting adequate knowledge of market value, you need car value calculators.
Unlike the usual, limited guesswork by private sellers, a dedicated car calculator for the values of vehicles based its findings on thousands or millions of vehicle sale transactions in the past weeks or months, giving it an edge over other resources when determining whether you are overspending or underspending on a car deal.
Estimates by established car value calculators and pricing guides, like
CarGurus
' and the
Kelly Blue Book
Value of Canada cars, can give buyers and sellers a fairly accurate idea regarding the reasonable pricing range for their cars.
Since not all pricing guides have access to the same data points, there might be small differences between and among their estimated Canada car values for the same vehicles. For the best outcome, you are advised to rely on more than one reference when determining the right value of Canada cars.
How to Determine the Trade In Value of My Car?
You can calculate the low and mid-range value of a car as well as the average price using the abovementioned pricing guides. To get estimates, you may enter the VIN or other specific car data on the space provided by their tools. But if you want more comprehensive conclusions on the used car value of Canada cars, including breakdowns of the factors involved in calculating the value of a car of a specific type and brand, you need something else entirely.
This is where VinAudit.ca's Market Value Tool enters the picture. The tool goes beyond typical car value calculators since its process of calculating the value of cars is several orders of magnitude better than most you can find on Google. Not only does it collect unusually heavy data volume to come up with a more precise estimate, but it also references data from sources you can trust, like industry leaders and government agencies.
What does the Market Value Tool show?
Similar to other car value estimators in Canada, the market value tool estimates the retail value of your car, truck, or motorcycle — based on the price that similar vehicles have been sold for in recent months.
In case you need some reminders, the car retail price (in this context, the value of Canada cars) refers to the amount of money a seller charges for a new or used vehicle before any additional fees or negotiations.
The market value interface includes: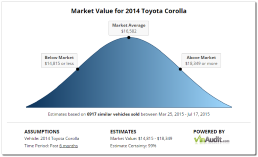 A Closer Look at How VinAudit Estimates a Vehicle's Market Value
As part of VinAudit's vehicle history business, our systems continuously aggregate and store millions of vehicle sale records each month from industry partners. These include both private-party sales and dealer sales, giving insight into the average market prices of vehicles and how these market prices change over time. This market value widget reflects VinAudit's estimate of a vehicle's present market value based on sales of vehicles with a similar year, make, model, and trim.
The Benefits of Using VinAudit's Market Value Tool
Accurate Data: VinAudit.ca marketing value tool provides accurate and up-to-date market value data for vehicles, helping sellers and buyers make informed decisions.
Transparent Pricing: VinAudit's car value estimator for Canada cars nearly eliminates guesswork in the equation and provides transparent pricing information, giving sellers and buyers confidence in their transactions.
Cost-Effective: Using the VinAudit marketing value tool is a cost-effective way to determine the appropriate trade in value or price for vehicles, avoiding overpricing or underpricing.
Easy to Use: VinAudit marketing value tool is user-friendly and straightforward, allowing users to quickly and easily access Canada car value without extensive training.
Resource Savings: Using VinAudit's unique Canada value calculator saves the user time and effort by providing them with reliable market value information in a matter of seconds, instead of manually searching for comparable vehicles.
Competitive Analysis: The tool allows one to compare a vehicle's market value with similar models in their area, helping them understand the competitive landscape and make necessary adjustments.
Negotiation Advantage: Buyers, sellers, and third parties who use the VinAudit marketing value tool can negotiate from a position of strength, backed by accurate details on the used car value of Canada vehicles.
How VinAudit Market Value Tool Can Help You?
Individual Car Buyers: VinAudit Car Market Value Tool can help individual car buyers by providing them with accurate and up-to-date car market values. This tool can help them negotiate better prices when buying a used car, ensuring they are not overpaying for a vehicle. It also enables them to make informed decisions by comparing the market value of different cars and selecting the most cost-effective option.
Car Sellers: The tool can also benefit car sellers by providing them with an understanding of the fair market value of their vehicles. This allows them to set a reasonable selling price that attracts potential buyers and increases the chances of a successful sale. It prevents them from undervaluing their car and ensures they get a fair price.
Car Dealerships: VinAudit trade in value calculator can assist car dealerships in pricing their used car inventory appropriately. It helps them evaluate trade in value and determine the market value of vehicles they plan to sell. This tool ensures that dealerships are offering competitive prices and increases their chances of making profitable sales.
Insurance Companies: Insurance companies often need to determine the value of a vehicle for purposes such as insurance claims, total loss evaluations, or premium calculations. VinAudit car value calculator provides a reliable valuation source for insurance companies, enabling them to make fair and accurate assessments.
Financial Institutions: Banks and other financial institutions may require car market value information when providing loans or financing options for vehicles. VinAudit Car Market Value Tool can help these institutions assess the worth of a car and make informed decisions about lending amounts and interest rates.
Automotive Professionals: Professionals in the automotive industry, such as mechanics or car appraisers, can benefit from the tool by having access to reliable market values. It helps them determine the fair price for repairs, parts, or salvage, ensuring they are charging customers or insurance companies appropriately.