Find out what buying a car actually costs over 5 years:
What does the Ownership Cost Tool show?
The cash price for a car doesn't reveal how much a car actually costs to own. If you buy a car, use it for 5 years, and then sell it — the actual cost is the "depreciation" of a car over those 5 years, plus all the additional expenses associated with owning the car. Our ownership cost tool estimates the true cost of ownership over the next 5 years, including: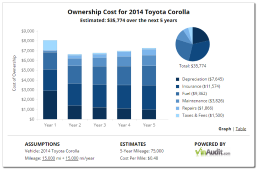 Depreciation: the loss of market value due to age and mileage
Insurance: the expected cost of insurance for this vehicle type
Fuel: the cost of gas based on the vehicle's fuel efficiency
Maintenance & Repairs: covering routine & unexpected issues
Taxes & Fees: covering sales tax and other fees
How does VinAudit estimate a vehicle's ownership cost?
As part of VinAudit's history business, VinAudit continuously aggregates millions of vehicle-related records each month from government agencies and industry partners. From this historical data, VinAudit has built statistical models for predicting the cost for each of the ownership cost categories shown accounting for the vehicle's real-time
market value
, the vehicle's yearly mileage (as configured), the vehicle's fuel efficiency, the vehicle's reliability, gas prices, labor costs, and other factors. As with most predictions, this model makes some assumptions which may not hold true, and VinAudit continues to improve the model over time as additional real-world data accumulates in our database.