What is a salvage rebuild?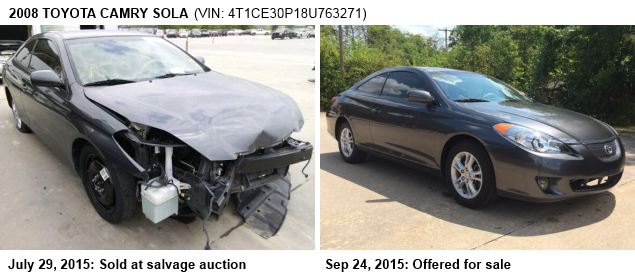 If you have been looking around for a used car in Canada, you probably have come across some rebuilt salvage vehicles. These vehicles have been previously declared by the insurance company as a total loss due to damage from theft, fire, flood, or collision. If the insurance company decides or the private owner wants to repair and re-sell the totaled car, they get a "salvage" brand for the car. This particular brand on the vehicle registration document is permanent.
When does a salvage vehicle's status become "rebuilt" ? The "rebuilt" status is acquired after necessary repairs and restorations are done to make the vehicle road-worthy. A licensed inspection technician thoroughly inspects the vehicle to check if it is compliant with the specifications of the Original Equipment Manufacturer (OEM) or Inter-industry Conference on Auto Collision Repair (I-CAR).
Vehicle brands are printed on the ownership/registration card. A "None" or "Normal" brand or a "Rebuilt" brand means that the vehicles can legally operate on the road.
What are the disadvantages or dangers of buying a rebuilt salvage vehicle?
Since a car with a "rebuilt" brand has suffered enough damage to earn it a salvage brand previously, even if it looks good from the outside and passes the required inspection, the severity of the damage can be destructive to a car's structural integrity. Besides the obvious safety concerns with a vehicle that may not be structurally sound, here are a few other reasons to think twice before buying a salvage rebuild:
How do I protect myself from the risks involved?
A rebuilt salvage car will never be as good as one with a clean registration record regardless of how well it was repaired. Here are some important points to keep in mind when shopping for your next car: